Have you been dreaming of escaping to a tropical paradise? A place where you can leave all your troubles at home and soak up the sun?
Summer is here, and that means it's the perfect time to get away and experience paradise. Better still? Paradise is just a short distance off the Florida coastline.
If you're thinking of getting away to The Bahamas this summer, we would love to see you at Sandy Toes! We offer a little bit of something for everyone, an adventure everyone can revel in, the perfect relaxation spot and something new to discover every single day. Whatever you're looking for in tropical heaven, you'll never run out of things to do in The Bahamas. Here's a look at how you can spend your summer vacation with us.
Places to Explore
Our little corner of the world is your own little slice of paradise. Here's a closer look at the beautiful areas waiting to be explored on your Bahamas vacation.
Rose Island
Sandy Toes is located on Rose Island, a small, gorgeous island about 12 miles long located 4 miles east of Nassau and Paradise Island.
If you're a big James Bond fan, you've seen Rose Island before–it was featured in the 1965 James Bond film Thunderball, the site of a crash landing. The original 007, Sean Connery, even lives in The Bahamas.
There won't be any crash landings, but Rose Island is even more beautiful than it looks in the movies.
Centuries ago, Rose Island was home to a pineapple plantation. These days, Rose Island is home to just a few private homes and, of course, Sandy Toes. In fact, the island is virtually uninhabited, making it the perfect spot for a summertime getaway.
It's a long, skinny island with a protected "harbour" area called Lower Harbour, where Sandy Toes is located. Our property runs sea-to-sea, meaning no matter where you stay, you'll see the pristine ocean waters in almost any direction.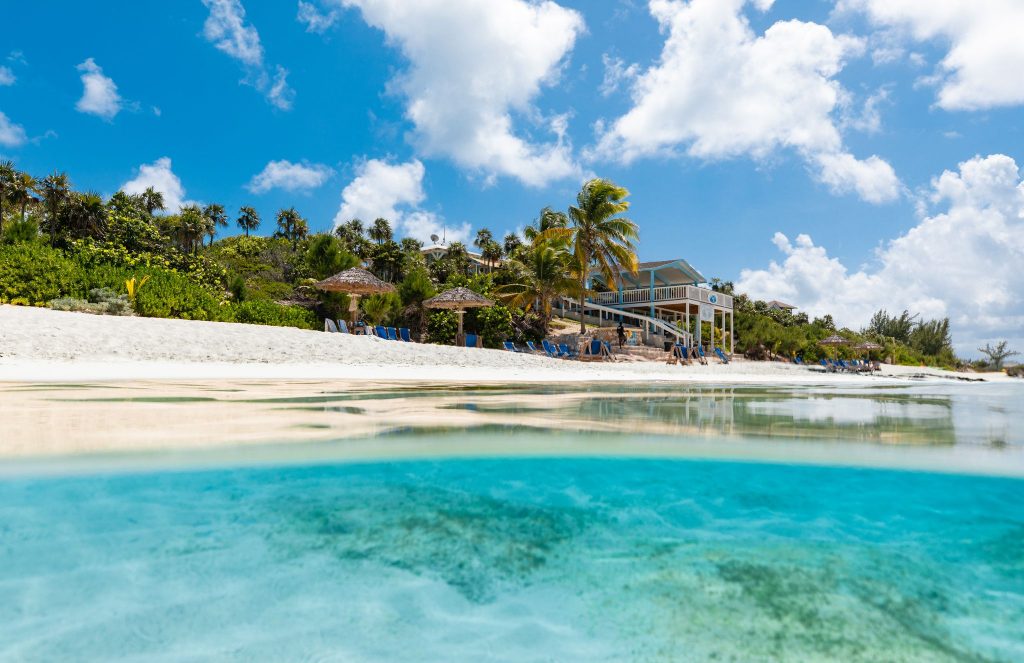 Nassau and Paradise Island
Four miles away is Nassau, the capital of The Bahamas. If Rose Island is a secluded, quiet slice of tropical heaven, Nassau and Paradise Island combine the laid-back ease of tropical utopia with the lure of a big city. In short, paradise.
Nassau is the original tropical paradise. If you think of blue skies and sandy beaches, you can picture Nassau pretty well. Yet Nassau is also the bustling hub of The Bahamas, offering modern amenities. Downtown Nassau is about twenty square miles of historic architecture, modern murals, bright colors, and living history.
Nassau is full of rich history, having sheltered everyone from pirates to freed slaves to blockade runners to rum smugglers to runaway lovers. These days, though, it's the perfect place for you to escape and make your own memories.
Better still? If you're itching for a little taste of the city before you return to the peaceful haven of Rose Island, it's just a short boat ride away.
Things to Do in The Bahamas
We can make you this promise: in The Bahamas, you'll never run out of things to do. The islands may be small, but they're packed to the brim with personality and adventure, no matter what flavor of adventure you're in the mood to find.
Swim with pigs? Learn about pirates? See some of the islands' beautiful native birds? Swim with our colorful underwater neighbors? Sit on the beach and let the sand soak up all your troubles?
Like we said–there's an adventure for anyone in The Bahamas, especially on our peaceful Rose Island. Here's what you have to look forward to on your vacation with us.
Swim with Pigs
Looking for a life-changing experience? If so, you have to experience swimming with pigs on Rose Island.
Rose Island is known for being home to wild pigs. The pigs you swim with at Sandy Toes, however, aren't wild. They're actually pigs rescued from local farms, raised in our wildlife sanctuary among royal peacocks, curly-tail lizards, and reef life.
Our nine sweet Sandy Toes pigs (Babe, Wilbur, Pumba, Larry, Curly, Mo, Ginger, Pepper, and Spice) are the nicest pigs you'll meet in The Bahamas. They love spending time with humans, luxuriating in attention, and, of course, going for a swim! These big and little guys all have big personalities, and they'll happily paddle next to you and nuzzle a snack out of your hand.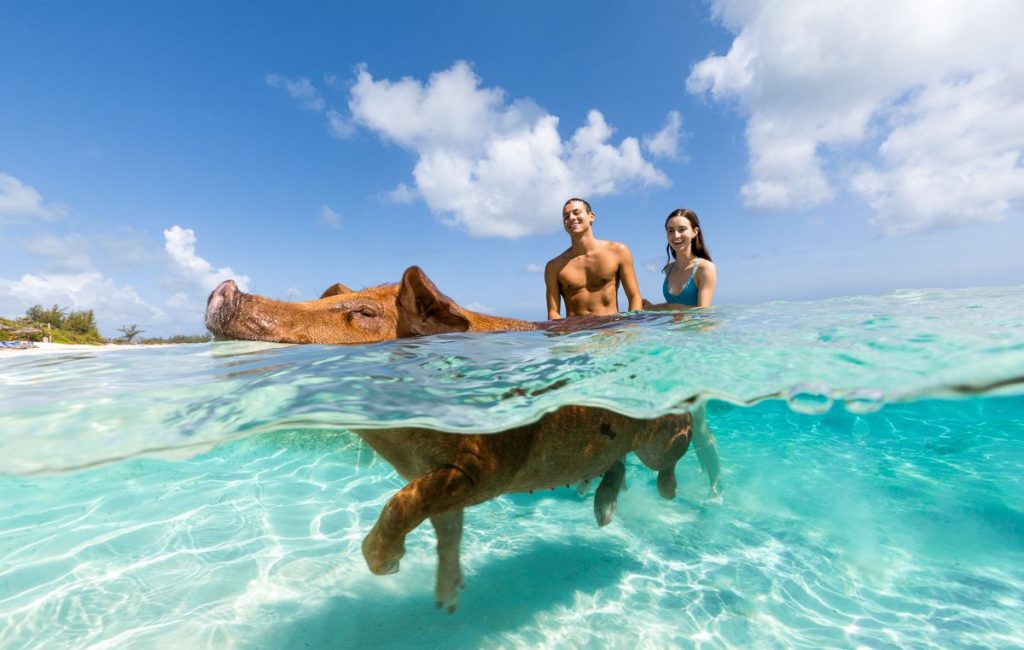 Explore Bahamian History
Bahamian history is even more colorful than the birds that flock on our islands.
We mentioned earlier that Rose Island was featured in a James Bond movie, but The Bahamas as a whole has been the site of several films. If your interests run more toward swashbuckling pirates than sophisticated international spies, why not pay a visit to the Pirate Museum in Olde Town Nassau?
The year is 1716, and your adventure begins on a moonlit dock to the sound of pirates celebrating in a nearby tavern as the water laps against the ships. You'll walk alongside the pirate cutlass Revenge and journey into the place some of the most notorious pirates in the Caribbean called home.
Snorkeling
If snorkeling in The Bahamas isn't on your bucket list, here's a tip: it should be!
Shallow, clear water, sandy beaches, and year-round warm weather make The Bahamas perfect for snorkeling. From undersea cave systems to coral gardens to blue holes (ocean pools of freshwater floating on saltwater) to the stunning colors of our local marine life, The Bahamas offers a once-in-a-lifetime snorkeling experience.
One of the highlights of the Sandy Toes Full Day Excursion is our snorkeling tour. You might run into all sorts of fish, including barracuda, clownfish, and lionfish, but you'll also encounter other amazing sea creatures from spiny lobsters to sea turtles–even dolphins.
Full-Day Excursions
If you want a complete adventure, why not book a full-day excursion and let us be your tour guides?
Our full-day excursions offer the complete island experience. Your day begins with a specialty drink upon arrival. You'll have your own private island and private beach with a range of activities, including swimming with the Rose Island pigs, daily guided snorkeling tours, a hammock garden, and beach games. If you want to sit back and relax, no worries! There's island music and a shaded north deck overlooking the beach, the perfect spot to kick back and take it all in.
To keep you ready to continue your adventure, you'll get a full Bahamian lunch as part of your package, including: barbecue chicken, hot dogs, peas n rice, mixed green salad, vegetable pasta salad, fresh-baked rolls, and complimentary lemonade.
But best of all? Starting in August, we will be offering exclusive island experiences for groups of 2-10, including the famous swimming pigs, private boat transportation, access to a secluded destination, snorkeling tour and lunch service (4 hrs) for $2500 VAT inclusive. you can book the morning slot from 8:30am to 12:30pm or the afternoon slot from 1:00pm to 5:00pm. (Other time slots are offered but subject to availability) This product is available for a limited time during summer 2020 so get it while it's hot!
Revel on the Beach
Of course, if you're looking for a low-key experience, we wouldn't blame you for spending a day just soaking up the rays on the beach. After all, when the beaches are so pristine and peaceful, why would you want to go anywhere else?
The beaches on our beautiful Rose Island are the stuff of dreams. The island is largely uninhabited, which means the beaches remain untouched and gorgeous. With the sand in your toes, the sun shining overhead, the waves rolling in and the sea air in your lungs, you're in the perfect place to just drink it all in. Your troubles melt away under that beautiful Bahamian sun, where nothing matters except reveling finding the perfect beach spot.
And hey, if you want to limit your day's excitement to a crazy Caribbean cocktail, we certainly wouldn't hold that against you! The better to cool off in the tropical sun and leave all your worries behind. It's even better when paired with a beachside massage.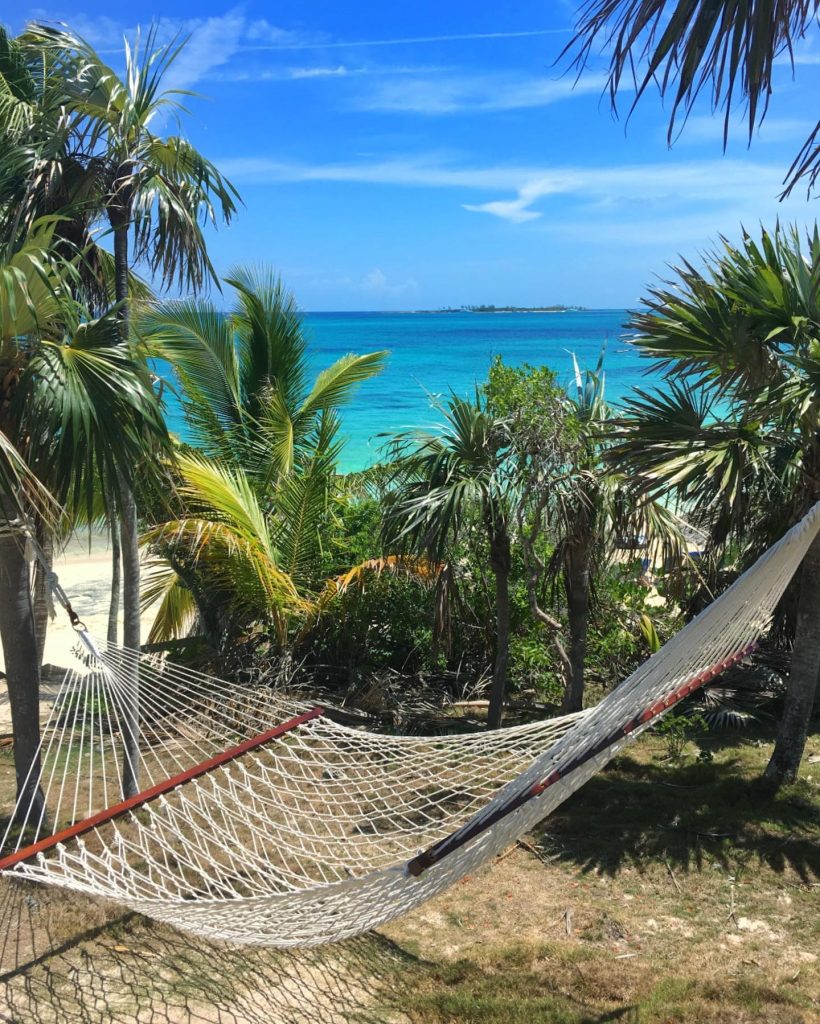 Thinking of a Summertime Escape?
Who says a summertime escape has to be a far-off dream? You can experience your own tropical paradise this summer with us.
At Sandy Toes, we're here to provide your perfect tropical getaway. If that sounds like the perfect way to spend your summer, we would love to have you join us! Click here to check out our our 2 bedroom eco-luxury villa. This summer it's all about exploring and partying in your own backyard! Get in touch to let us know if you have any questions about your paradise experience with us.
* For larger groups please inquire for a custom quote here