THE BEST BACHELOR & BACHELORETTE PARTY DESTINATION
CONGRATULATIONS on your recent engagement! She said yes (or he said yes!) and now the "wedding wheels" have begun to turn down the exciting road of planning and preparation. Included in this schedule of festivities, is the all important party given for a man (or woman) about to get married, typically attended by men (or women) only. Let's plan your Bahamas bachelor bachelorette party!
That's right folks, the stag and doe, the Jack and Jill, call it what you want it's time for the Bachelor and Bachelorette celebrations!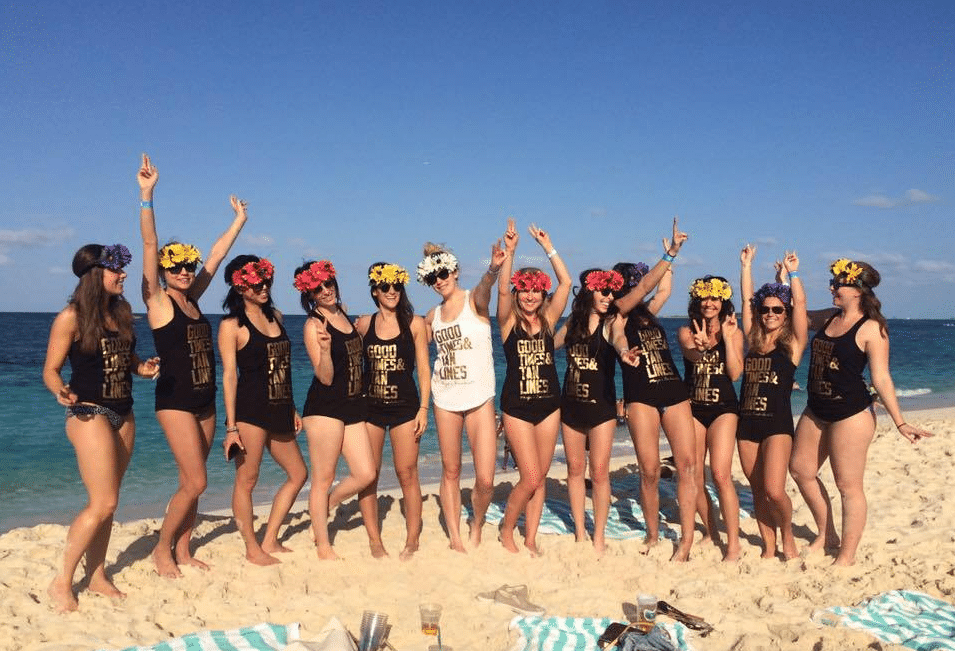 Attention Best Man and Maid of Honour!
This monumental task is bestowed upon you to figure out where to have a bachelor party (or bachelorette) for the bride or groom to play out the rest of their single days. Rack your brain and try and think about something sexier than beaches and bathing suits and pina-coladas! Start thinking about Caribbean bachelor party destinations! And if you are trying to find the BEST Caribbean island for a bachelor party, then look no further than Sandy Toes, on Rose Island, in The Bahamas.
Rose Island boasts almost 1000 feet of white powder beach with boat access from both the south and north side of the island. Gather your party together, and be swept away to the most happening spot in Nassau! Whether you want all the bells and whistles or nothing at all, we are sure to be the perfect cherry on top of an amazing bachelor party getaway weekend. This goes for you ladies as well, we will make sure you have the most amazing Bachelorette experience in the beautiful Bahamas!
BAHAMAS BACHELOR BACHELORETTE PARTY PACKAGES
Book onto our Full Day Excursion and let us know how you wish to customize your special day for your guys or gals! Certain upgrades could include:
Bottle Packages – starting at $250
Activity host/coordinator to organize games, dancing etc. – $175/day
All-You-Can-Drink Package Upgrades
Kayaks starting at $15/day per with a $15 refundable deposit
Photographer or videographer to document your beach day – starting from $550
Beach-side Massage – starting at $15
And let's not stop there, if you've already been there and done that and are actually planning on getting married abroad in the Bahamas, let us help with your pre or post wedding BBQ bash on the beach with all of your friends and family! Take a day out to Rose Island after being cooped up in a hotel room for the weekend and organize the "before or after wedding" get together on the most beautiful beach you've ever seen!
Brides, even bring your garments for that amazing "trash the dress session" which can be organized by one of Nassau's own stunning photographers.
Sandy Toes isn't just the "I DO's"- it's the before, the during, and the after.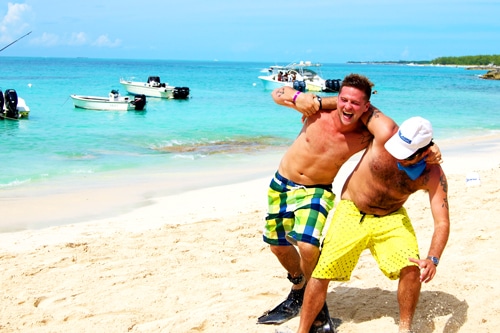 Get in touch to start booking your Bachelor and Bachelorette packages now! If you are considering Nassau, Bahamas for your bachelor or bachelorette trip, please let us know what you have in mind by giving us your details below! Don't let the other wedding parties out there beat you to the punch!