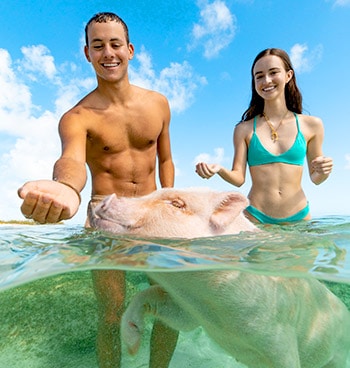 Why You Should Swim with Rose Island's Pigs
When you think of swimming with pigs in the Bahamas, Exuma's "Pig Beach" is probably the first place that comes to mind. It used to be the only place – until now! If you're staying on Nassau or Paradise Island, you're closer to a swim with the pigs adventure than you think. At Sandy Toes, we have six sweet snouts ready to spend the day with you! Here's why Rose Island is the place to go to meet the swimming pigs of the Bahamas:
The Stars of Sandy Toes
Babe, Wilbur, Pumba, Larry, Curly, and Mo are Rose Island's stars. They have full run of our protected wildlife sanctuary and get to spend their days roaming the beaches, going for a swim, and lounging on the sandy shores. In addition to sunscreen and safe sleeping areas, our boys have regular vet check-ups and receive attentive nutritional and skin care. They've been living the dream ever since they were piglets and were taken in by Sandy Toes. Our priority is their happiness. Come see for yourself!
More Time with the Boys
Tours to Exuma are typically quick stops that allow for only 20 minutes with the pigs before you're off to another location. On Rose Island, however, you get to play for much longer! As long as the weather is friendly, the boys are out and about and ready for selfies. We even have snacks you can feed them! How much better could it get?
Distance and Time Savings
If you're staying on Nassau, Exuma is an astonishing 89 miles away – that's two hours by boat each way! You'd spend more time on a boat than you would on the island. Rose Island, on the other hand, is a hop, skip and a jump at 6 miles away, or twenty-five minutes by boat. That means you have more time to enjoy the island, the pigs, and your vacation!
Safety First
One thing you may not realize about Exuma's pigs is that they're wild. While they are accustomed to humans thanks to their popularity, they are still unpredictable. Larry, Wilbur, Pumba and the rest have been in the care of Sandy Toes since they were babes. They're as tame as pets and thoroughly enjoy the attention our guests give them! We also maintain a clean environment for the boys and our guests alike, and take the safety of both seriously.
More Activities
Swimming with the pigs is just one part of the full day excursions we offer! If feeding and taking selfies with adorable animals weren't enough, you also get to spend your day snorkeling, getting a relaxing massage, enjoying our beach bar, and living the good life on your private island resort!
To find out more about our swimming pigs, visit our page here.
If you're ready to book an excursion or want to find out more about the amenities offered at Sandy Toes, head to our information page.