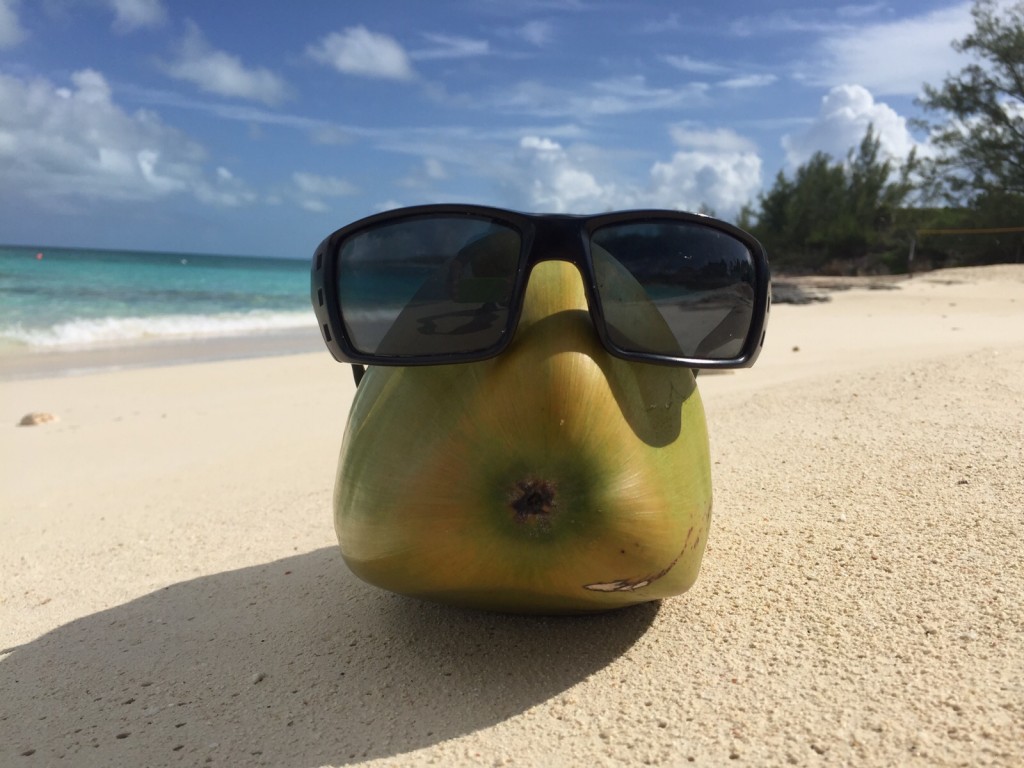 Best Tips For Cruise Ship Visitors to Nassau Bahamas by Coco
Best Tips for Cruise Ship Visitors to Nassau Bahamas
Hello all you beautiful people, and welcome to the tropical port of Nassau, Bahamas! This bumpin' little hub is full of things to do, places to eat and people to meet. It's a sunshine destination to melt those winter blues and escape the everyday reality, so turn off your smartphones, put on your bathing suits and come enjoy the spoils of one of the prettiest places in the world.
("Psst* IS that a coconut talking to us?")
Oh haha, my apologies and allow me to introduce myself – my name is Coco and I am just your average run of the mill beach bum who specializes in hanging out in hammocks and sipping on pina coladas. I have lived in the Bahamas all my life and have seen many people come and go through these outrageously awesome islands. While each and every one is totally unique and special in it's own way, my home for the past 5 years has been blowin' in the trees on Rose Island, which is located just east of the capital of Nassau. I find it relaxing and laid back up here where I can mix and mingle with new people everyday who come and visit; amigos who I get to share my stories and knowledge of the Bahamas with (and maybe catch a drink or two at the beach bar as well!). This is "island life" at it's finest; it's a tough gig but some of us coconuts gotta do it!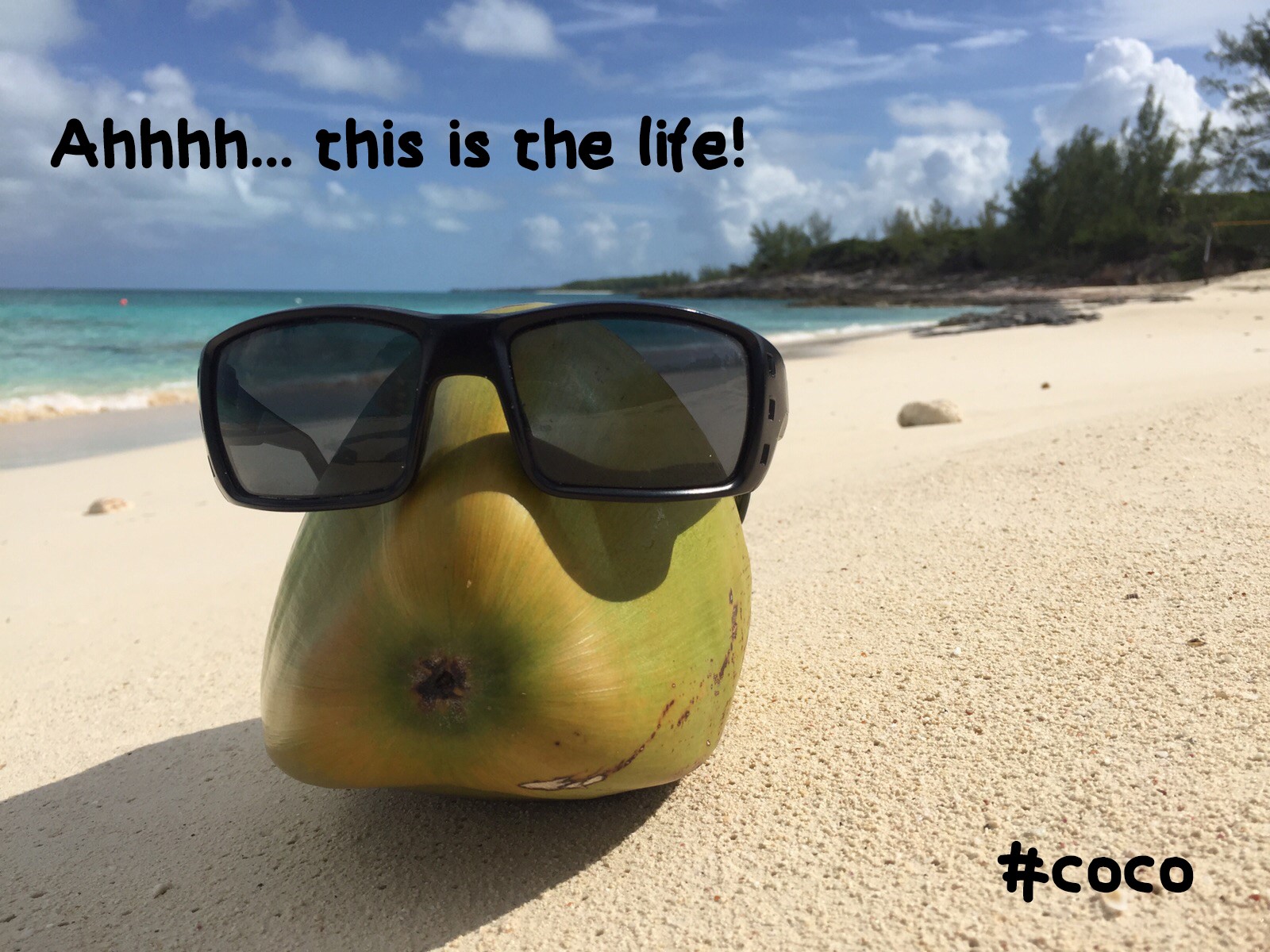 Before I called it a wrap and put down my roots (or I guess pulled up?) at Sandy Toes, I use to do a lot of travelling all over the Caribbean and especially on the cruise ships. To island hop from one to the next was exciting and totally life changing, any travel is good travel I always say! I meet a lot of people up here who have sailed in off the cruise ships for the day and looking for fun things to do in the Bahamas.
I recently met a couple who was here on an 8-5er' time slot off one of the Carnival cruises coming in for the day. They were saying how nice it was to finally get off that deck and put their feet in the sand; sure there is much to do on a cruise but it's called cabin fever for a reason! We started chattin' about how their experience had been so far, what they had done, and where they were going next. They told me how they had been looking for excursions in Nassau and found Sandy Toes by the Trip Advisor review site, and were TOTALLY pleased with the decision.
It makes my coconut heart happy when I see other people enjoying this beautiful country. It shouldn't be a secret on how to get around OFF of the boats while you're in port, so let me share my 2 Bahamian cents and give you the lowdown on the good, the bad, and the cruise ships.
Cruise ships are pretty bang on with their port call times so you don't have to worry too much about a late arrival or early departure. Many of the businesses on the island have agreements for certain times and schedules revolving around when the ship gets in, so they can't afford to have them dragging in tardy every day. I remember a handful of times when a cruise was rerouted due to a hurricane, but that happens more not than often, so don't freak out about prebooking activities in fear that you might miss out.  If for any reason your cruise DOES get rerouted, most vendors just ask for a letter from the ship to be able to refund or reschedule, so don't think that vacation money is gonna go down the tube – you're good!
Speaking of that, I will probably be chopped in half by a machete, drowned in gin and turned into your next tropical drink for telling you this, but my next point is probably one of the most important things I can tell you about planning your port stops. THINK TWICE BEFORE BOOKING YOUR TOURS ON THE CRUISE SHIP! Have you ever heard that little word called "commission"? You can take my sunburnt coconut bee-hind to the bank that every single tour you book on your cruise ship will be astronomically marked up from the original price of the tour.
"But Coco! I'm cruising into a strange, foreign place where I have NO clue what to do, what is safe and reputable; I don't even really know what my options are," you might be thinking. Well I can tell ya' that the pretty pictures and information that they have sitting by the tour desk, are the very images and information that come from the tour companies itself. Odds are if you book direct with them, you will get a MUCH better rate and a more affordable option to participate in the tour. If you aren't quite sure what to do, take to the net and check out sites like Trip Advisor Nassau to look for Bahamas tourist attractions or other awesome and radical places and tours. The word of the review and referral will give you the REAL in and outs of the trip and based on things like that, you can then decide for yourself. Now I'm not gonna say this is an "every case" sort of deal, but do yourself a favor before you start throwing money around and research the activities direct in Nassau.
PORT OF NASSAU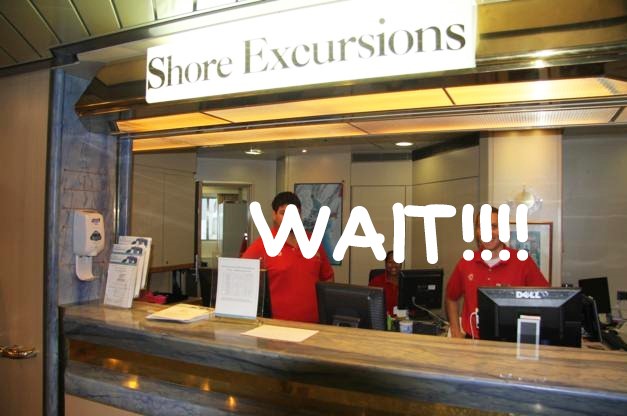 Now when I actually get to gettin' off the ship (see what I did there!) there's nothing more that I would rather do than B-line away from the herd and float to Rose Island, but I get that the fast and loud pace is definitely a lifestyle on other peoples radar. I myself have spent much time downtown Nassau so can speak firsthand about what you will encounter from when you walk out of the gates.
Worried about getting a taxi to get to your destination? DON'T LOL. When I say you can get a taxi, you can get 100 taxis. They line the streets, up and down and back and forth; there is no need to pre-plan this if you need to move around, just walk right up to one like you own the place and let them know where you gotta go.
#Cocotip ALWAYS negotiate your fare before you jump in a cab. The last thing you want is to get to your destination and the taxi driver asks for your first born as payment, so know how deep you'll have to dig in your pockets before you even step foot in the vehicle. You won't see meters on the dashboard so won't have a visual of what is racking up it doesn't work like that, rather you'll pay a base fare from A-B, or pay by the number of people the taxi moves (Ex. $4.00 per person).
The water taxis (these are all the boats you'll see tied up at the pier), will move you from the Nassau port to Paradise Island. I would HIGHLY recommend if you're in a rush or on a time agenda to NOT use this mode. You'll probably hear them saying "oh ya, we goin' we goin' right now!" but in reality you're butt is gonna sit there until they are satisfied with the amount of bodies on board and it's full enough to push out.  Like I said, if you're in no real rush and not wearing a watch with time to kill, it's a nice way to get back and forth between the 2 islands.
Sometimes if I came in on a ship that fell outside a morning arrival/afternoon departure and landed around noon instead, my hollow, empty shell would be growling telling me that it MUST be lunchtime and that I had to go find something to EAT! There are a ton of places to dine at in downtown Nassau so pick your preference: Bahamian, Greek, Italian, Mexican etc. All options are within walking distance and totally accessible by foot, everything is pretty good but here are my top 3 that I like to dine at when I'm in town:
Lukka Kairi: A new modern restaurant right on the wharf that serves up Bahamian cuisine. They have a small plate strategy which is a bit bigger than tapas, but the theory is that you get to order a lot of different things to be able to try a big chuck of the menu. Eat the tropical conch salad or the cheesy shrimp and grits; you'll thank me later.
Senor Frogs:  Right beside the above, Senor Frogs dishes up yummy Mexican while you can sit over the water and watch the boats go by. They also rev it up with music, drinks and lots of interactive games with the guests – people watching at it's best!
Café Matisse: This one is a little more high-end and may require a reservation, but "husks down" the best service in Nassau. Along with excellent quality dishes and weekly specials, grab a table in the outdoor courtyard and catch lunch in style.
Usually when I'm done eating, I like to wash it down with a nice cold beer. Not to promote drinking and shopping ($$$!), but it's totally not illegal to put it in a little paper bag and wander around with it while you go about your day. So whether it's you or you see people walking around with island "roady's", it's not that taboo to see or do in the Bahamas.  Also, to throw a little pitch at myself, ask around where you can get a glass of fresh skyjuice, it's a local drink made of Gin, sweet milk and coconut water. We sure do make a mean cocktail!
Not Your Typical Shore Excursion
If you've been there, done that… maybe this is your 2nd or even 3rd stop, use your day to get out of town and hit up a shore excursion in Nassau. I've told you about my humble abode at Sandy Toes, but any of our family islands are sure to please. Think of Nassau like the "New York" or "Los Angeles" of a big state, and my Rose Island or other places like Exuma and Eleuthera the "suburbs" away from city life.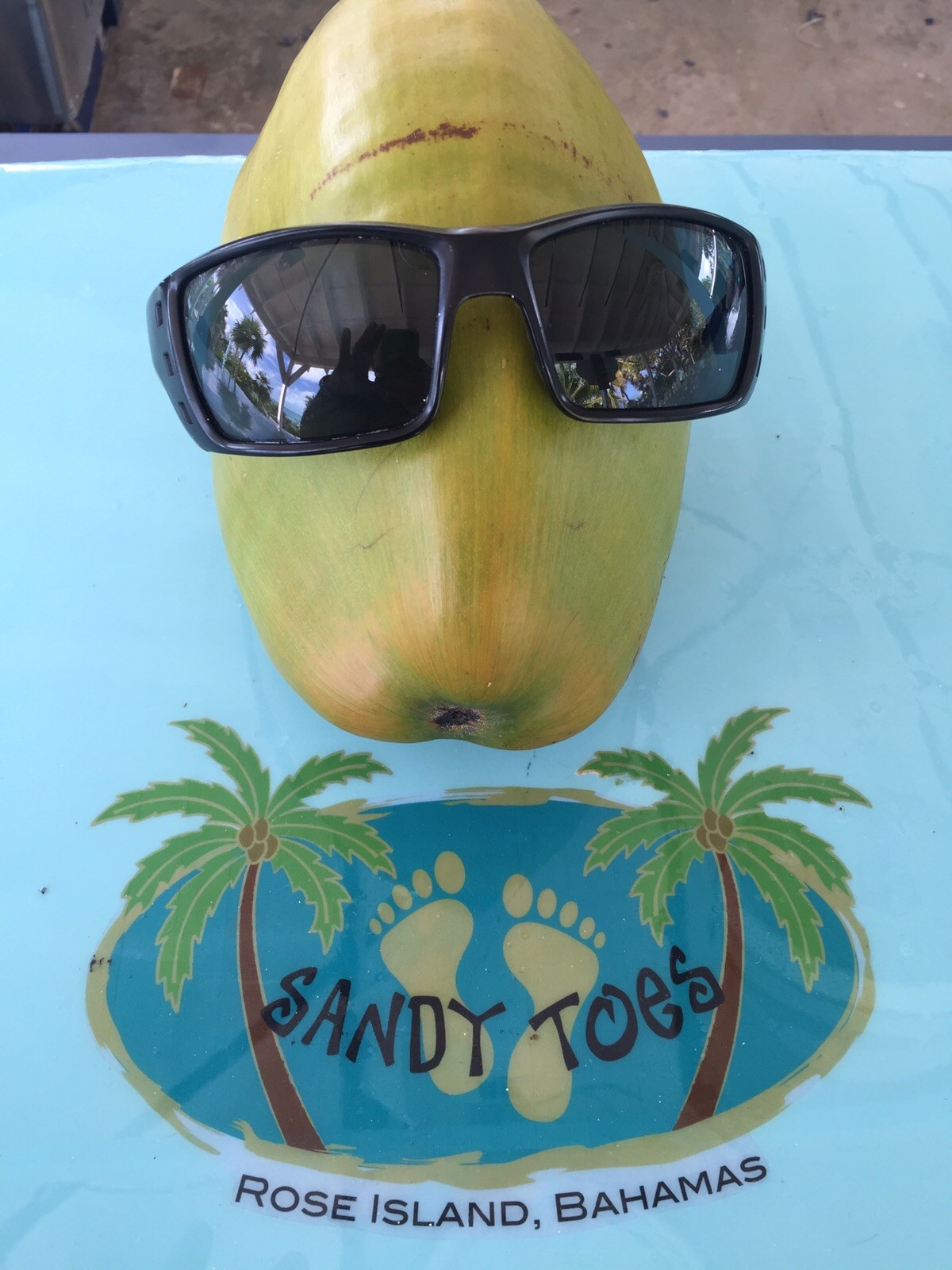 Check ya' next time!
Sweet island salutations,
Coco the Coconut