Things to do in Nassau Bahamas
SUNDAY

PARTY PASS TO SANDY TOES
Looking for things to do in Nassau, Bahamas? Get away from the city and spend the day partying at your own private beach paradise! Get your Party Pass and jump aboard our power cat and head on up to an exclusive beach party where you will meet locals and fellow travelers alike. No need to bring anything as all of your food and drinks are available for purchase on the island!
Time
Every Sunday from 12:00pm – 6:00pm
* Check in at 11:30am
 * Times subject to change at the sole discretion of Sandy Toes & it's operators
THINGS TO DO IN NASSAU BAHAMAS
The Bahamas offers so many things to do that it's too difficult to chose! You've seen all the pictures and all the videos of your friends who have visited Nassau. But, do you want to do the same old thing, or find something memorable? For example, Sandy Toes offers some of the best Bahamas snorkeling areas away from the crowded tourist packed beaches. Read on to get a few inspirational ideas and start planning your trip to Nassau Bahamas!
Rose Island is filled with white powder sand beaches, one of a kind views, and spots of natural beauty spread across the property. Find a hidden cove or explore an untouched trail.
Our Sunday Party Pass includes so many amenities available in one trip, you'll never forget your trip to Nassau Bahamas while discovering some of the things that make the Bahamas so unique. It's one of the things that TripAdvisor and Viator love about us! From scenic landscapes to social and cultural interactions, there is something for everyone.
WHAT'S A PARTY PASS?
Experience The Bahamas like never before; Our Party Pass is truly one of a kind. Board the boat on Paradise Island Ferry Terminal, cruise through Nassau Harbour taking in the sites from the multi-million dollar beautiful Ocean Club Estates and Nassau, up to Rose Island (a short 15-20 minute trip) where, on your own private beach you can hang up your bag, and your inhibitions, walk up to the beach bar and get your party on. Then grab them all and let us take you back to Nassau after an incredible day on the beach. All included on your Sunday Party Pass!
Many people are tired of looking for things to do in Nassau Bahamas or they're tired of the crowded tourist traps and like to get away from the city (Nassau) and spend the day partying at their own private paradise where they meet locals and fellow travelers alike. All food and drinks are available for purchase up on the island so you don't need to bring anything with you other than your bathing suit, your credit card or cash, and a desire to have a good time!
If you're looking for a more exclusive experience, our VIP Tables & Bottle Service are available.
Great beach great atmosphere great people!!! It's like you're in paradise. Highly recommend you visit – Aug 31, 2016
WHAT'S INCLUDED IN YOUR PARTY PASS
Roundtrip boat ride to/from the Paradise Island Ferry Terminal
Fully Stocked Sandy Toes Beach Bar – Cash, MC, Visa accepted
DJ playing your favourite jams
Private beach
Hammock Gardens
Beach Chairs, Paddle Boards, Umbrellas, and Tubes available for rent
All the biggest sporting events on our big screens to enjoy at the Sandy Toes Beach Bar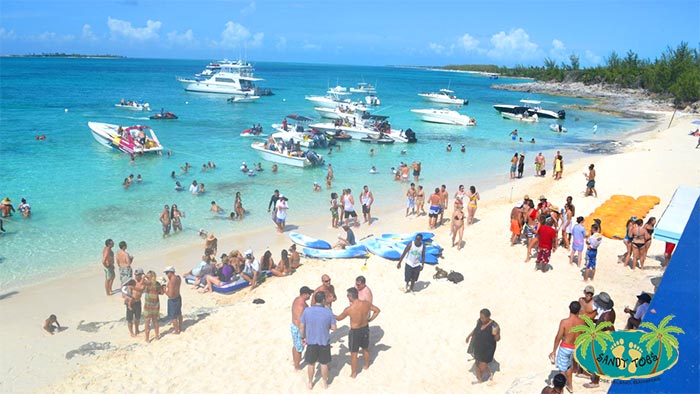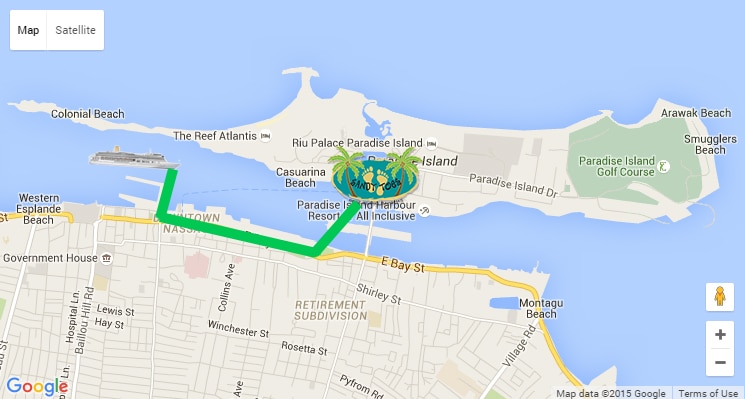 WHAT IF I'M ON A CRUISE?
Great question. What's great about Sandy Toes is, we leave from and come back to the Paradise Island Ferry Terminal. That means, you're a 10 minute land taxi ride from the Nassau cruise port and cruise ships  to where our boat leaves from. Check-in is at 11:30am and departure from Sandy Toes is at 5:30pm.
The boat (our power cat the Hermit Crab) will return to Paradise Island at 6:00pm. At the boat terminal, there are always taxis waiting to take you anywhere you need to go. If you've joined us from your cruise to Nassau, it's a quick trip back to the cruise ship port.
Things to do in The Bahamas
At first, we were going to say, "Unfortunately, you can't spend every waking moment of your Bahamian vacation at Sandy Toes." Then, we realized, you actually can! You could just rent our luxury villa retreat and eat, sleep, rave, repeat every day with us. Nassau is one of the most beautiful vacation destinations in the world, with pleasure seekers from every country imaginable travelling to the idyllic paradise to soak up the warm, tropical climate and experience everything the city has to offer. From adrenaline-pumping water parks and authentic food tours to ancient historical sites and fascinating city expeditions Nassau has a world of activities to offer every visitor. So, since we know it all can't be perfect and Nassau attractions near Nassau have some pretty amazing things to explore so we've made a list of things to do in the Bahamas that will compliment your Sandy Toes experience.
1. Join the Bites of Nassau Food Tasting & Cultural Walking Tour with Tru Bahamian Food Tours
Inviting you to eat, drink and discover the authentic Bahamas one bite at a time, Tru Bahamian Food Tours is a must for any hungry foodie who wants a real taste of tropical Nassau. During your three-hour culinary adventure, you'll join a small group of like-minded gourmands and head into the heart of historic Old Nassau where you'll traverse off the beaten path to meet talented local chefs, skilled artisans and proud business owners while nibbling your way through the best eats and drinks that Nassau has to offer. From classic conch fritters and baked macaroni and cheese to traditional rum cake and Bahamian gelato, you'll savor the best of the best on this food tour and discover new delicious delights you never even knew existed. Don't worry if you've got food allergies, intolerances or a strict diet to follow. Tru Bahamian Food Tours will happily cater for any type of foodie, as long as you're up for trying new things.
Each tour is led by a knowledgeable and passionate guide eager to satisfy your appetite for the city's fascinating history as well as gastronomy. In addition to the food and drink samplings, the tour also includes a leisurely stroll throughout the streets of colonial Nassau, where you'll have the chance to admire important landmarks, beautiful flora and charming local artwork. By the end of the day, you'll know the best places to eat, the best food to order and plenty of insider info about Nassau's history and culture and most visitors have no idea about.
2. Visit John Watling's Distillery
Home to John Watling's Rum, commonly known as the "Spirit of The Bahamas", John Watling's Distillery is where the finest spirits in the Bahamas are made, using traditional English rum-making methods and top quality locally-sourced ingredients. You can visit John Watling's Distillery for free and see for yourself the complex methods that go into making the unique spirits before enjoying a few complimentary sips at the end.
The alluring distillery is located in Downtown Nassau, within the beautifully-restored 2-acre Buena Vista Estate which boasts lush tropical gardens, black olive trees and unparalleled views of the harbor. Construction of the estate began around 1789, the same year that George Washington became the first president of the US, and is steeped in enchanting history. The tour begins with a trip to see some captivating exhibits of antique furniture and ancient prints that date back more than 300 years, showcasing the rich heritage and culture of the Bahamas. Then it's onto the vast storehouse where you'll get a sneak peek behind the scenes and see exactly how John Watling's rums are bottled using traditional generations-old methods. The storehouse is home to more than 1,000 aging white oak barrels which fill the air with "angel's share" – the portion of alcohol that gets evaporated during the many years the liquor is left to rest in the barrels. At the end of the tour you'll be treated to samples of John Watling's Rum, which come in Pale, Amber and Buena Vista variations, as well as a traditional Bahamian cocktail from the Red Turtle Tavern.
3. Climb the Queen's Staircase
Delve deep into Nassau's past and visit the Queen's Staircase at the Fort Fincastle Historic Complex. One of the city's most visited attractions, this historically-significant structure was built in the 18th century, at a time when the British had colonized the Caribbean and were concerned about attacks. To ward off any possible invasions, Fort Fincastle was one of several forts built and due to its strategic location at the top of Bennet's Hill (the highest point in Nassau) it was important to have a direct access route to reach the fort quickly in case of an attack.
The Queen's Staircase is made up of 65 individual steps and stretches on for 102 feet. The steps were hand-carved by around 600 slaves who used nothing but pick axes, hand tools and their strength to cut their way through the solid limestone for the 16+ years it took to complete the staircase. It wasn't until decades later than the staggeringly impressive staircase was named after Queen Victoria who had, by that time, reigned for 65 years and signed the declaration that abolished slavery. The Queen's Staircase is totally free to visit and the lush, dense trees combined with the cool rock face provide hot and weary travelers with a much-welcomed escape from the Caribbean heat. The popular attraction also provides a fantastic photo opportunity for anyone who wants to feel a connection of Nassau's turbulent past.
4. Explore the Ardastra Gardens, Zoo and Conservation Center
The first and only zoo in the Bahamas, the Ardastra Gardens, Zoo and Conservation Center is a truly one-of-a-kind day out. This sanctuary for animal lovers features over 4 acres of lush and tropical gardens home to a dazzling array of wildlife from all over the world. Here you can get up close and personal with everything from instantly-recognizable Caribbean flamingos (the national bird of the Bahamas), incredibly stunning peafowls and super cute lory parrots to friendly domestic pigs, adorably fluffy rabbits and curious Madagascar lemurs, as well as oversized green iguanas, various species of snake and yellow-footed tortoises. Not only can you admire the beautiful creatures up close, but you can also learn more about them during free 30-minute workshops on wildlife conservation and animal classification, have a hands-on experience by feeding some of the center's most affectionate parrots and watch in awe as Ardastra's famous flamingos take center stage and perform amazing shows.
In addition to the wonderful animal residents, the Ardastra Gardens, Zoo and Conservation Center also features a brilliant array of indigenous and regional flowers and tropical trees, such as bougainvillea, orchids, bromeliads, coconut palms and hibiscus blossoms in every conceivable color. Here you can spend hours wandering around the narrow, twisting paths and enjoying the peaceful atmosphere while admiring the massively diverse flora unlike anything you've ever seen before. Every turn leads you to a new, more fascinating part of the garden than the last, with shaded seats providing the perfect place for a rest and the rainbow of flowers filling the air with a sweet perfume.
5. Head out on the Nassau Segway Beach and Waterfront Tour with Caribbean Segway Tours
Forget about ordinary walking or bus tours. The best and most fun way to see Nassau is on a Segway tour! Don't worry if you've never ridden a Segway before. All Caribbean Segway Tours begin with a full orientation and comprehensive personal training so you'll be zipping around like a pro in no time at all. And just in case you do have a tumble, everyone taking part is providing with proper elbow pads, knee pads and helmets so you're never at risk of hurting yourself. After getting to grips with the Segway basics, you'll head off to explore some of the city's most popular hotspots, including the breathtaking Nassau harbor and picture-perfect white sandy Junkanoo Beach. Although riding a Segway is a lot less demanding than walking, you'll still work up an appetite. But thankfully, you'll have plenty of opportunities to stop off at local restaurants and bars where you can indulge in all kinds of delicious eats.
After refueling, it's off to the mini obstacle course where you'll have the chance to put your newly-learned Segway skills to the test against your fellow travelers! Make sure you bring your camera with you because you'll definitely want a few pictures of this. Before the end of the tour, everyone gets some time to enjoy free riding as you make your way back to the pickup point for your complimentary ride back.
6. Delve into the dark history of piracy at the Pirates of Nassau Museum
One of the best places in the city for kids, the Pirates of Nassau Museum is far from the stuffy, old boring museums you remember from when you were a child. Guaranteed to shiver your timbers, this this fun-filled interactive museum in the center of downtown Nassau invites you to hop on board the pirate ship Revenge and sail into the past. Focusing on the Golden Age of Piracy that lasted from 1690 until 1720, the Pirates of Nassau Museum looks at how the city attracted the biggest concentration of pirates ever witnessed in the New World.
Your sea adventure begins on an eerie moonlit dock where you'll hear the sounds of water lapping up the sides and drunken pirates celebrating in a nearby tavern. Discover authentic replicas of the intimidating pirate flags used by the likes of Blackbeard in the Flag Room, marvel at the genuine weapons and treasure seized from pirates long ago in mesmerizing exhibitions and feel the desperation of a marooned pirate in a 3D recreation of Howard Pyle's famous painting. The best exhibits are the ones that come to life and surprise you when you least expect it. You'll be boarded by the terrifying Captain Teach and his fearsome crew while you're sailing at high seas, discover the terrible fates of some of the world's most famous pirates, see Captain Rogers confront former pirate Benjamin Homigold and commission to hunt him down, and witness the fight between pirates Anne Bonny and Mary Read as they argue over their loot.
7. Stroll around the Cloisters
Located on Ocean Drive overlooking the Nassau Harbor, the Cloisters were originally constructed in the 12th century by Augustinian monks in the south west of France. The impressive structure was bought and imported to the US by the famous newspaper baron William Randolph Hearst and then later purchased by Huntington Hartford, who brought it to Nassau. Sadly, as the Cloisters were being dismantled for shipping to the Bahamas, no one thought to number the stones. So when the time came to reassemble the beautiful design, local construction workers were baffled and had no clue how to put the stones together the way they were intended.
Thankfully, artist and sculpture Jean Castre-Manne set about rebuilding the Cloisters stone by stone. The project took him two years to complete and the arrangement you can see today is thought to bear some resemblance to how the stunning piece of architecture looked originally. The gardens surrounding the Cloisters stretch on over the rise to Nassau Harbor and are flowing with wonderful tropical flowers and classical statues, giving the whole area strong sense of timeless beauty. So captivating is this little spot in the city that it's often used as the site for weddings, so don't be surprised if you see a couple tying the knot while you're there! The Cloisters and the gardens are entirely free to enjoy and don't forget your camera. The lush gardens, bubbling fountains and stone pillars make a wonderful backdrop.
8. Learn about local history and culture at the National Art Gallery of the Bahamas
Set inside the stately 1860s-era Villa Doyle, the National Art Gallery of the Bahamas is a great place to escape the Caribbean sun on a hot day in Nassau. Here you'll find a fantastic permanent art collection on the first floor of the building that focuses on the impressive work of modern and contemporary Bahamian artists, including masterpieces from folk painter Wellington Bridgewater, renowned sculptor Antonius Roberts and several other Caribbean artists. The temporary exhibitions on the second floor showcase historical, cultural and ecological themes relevant to the Bahamas and change throughout the year, so check them out online before you go to see what's happening.
You can sign up for a guided tour if you want to know all the insider info about the museum and the artwork or show yourself around and study the detailed descriptions that accompany each piece of art for a more laid-back experience at your own pace. The paintings and sculptures give you a great feel for real island life and culture and really open your eyes to the struggle that the local people went through to define themselves in the Post-British Colonial era. As well as housing the temporary exhibitions, the second floor also has a fantastic view of the manicured gardens that surround the museum, so definitely take the time to have a peek.
9. Step back in time at Fort Charlotte
If you've only got time to visit one fort during your trip to Nassau, it's got to be Fort Charlotte. The largest of Nassau's three forts, Fort Charlotte covers 100 acres and is positioned on the top of a high hill, looking toward the far west entrance of the harbor that it was designed to protect. The imposing fort was built between 1787 and 1790 by Lord Dunmore who named it after King George III's wife, Queen Saharia Charlotte. Thought by many to be badly designed (the barracks were constructed directly in the line of fire) and extremely over budget, the fort quickly took on the name 'Dunmore's Folly' and was never actually used.
Today the structure boasts a protective moat, working drawbridge, spooky dungeons, hidden underground passage ways and 42 canons, none of which has ever been fired as an attack. You can explore the complex and uncover its secrets on your own or sign up for one of the walking tours led by knowledgeable guides eager to retell the colorful history of the fort. There are various characters located throughout Fort Charlotte dressed in period costume and carrying out daily activities that were common at the time, such as hand-weaving baskets and selling local produce at the market to give you a real sense of what the area was like at the time. Try your best to time your visit so you're there around midday when an exciting show takes place and one of the cannons is fired.
Along with your Sandy Toes experience, this is just a small selection of the many fantastic things to do in and around Nassau. With so many fun activities suitable for travelers of all ages and all interests, you'll never have to worry about being bored in this tropical city. Take a look at our tour packages.